We customise our services to your business model
24 Hours, 7 Days a Week!
Get Your Commercial Pool Services Quote Now!
Commercial Pool Cleaning Services
Commercial Pool Cleaning

Pool Maintenance Programs

Total Management Solutions

No Job Too Big or Small

Motels - Hotels - Resorts & More

Gyms - Health Spas - Schools

All Public Swimming _ Big or Small
Which pool service do you require?
Commercial Pool Servicies & Management
Commercial Pool Cleaning Service & Maintenance
Our commercial pool services and management play a crucial role in maintaining pristine pool and spa facilities for, resorts, aquatic parks, health facilities and all public swimming establishments. These services encompass a broad spectrum of tasks including but not limited to routine maintenance to ensure the safety of your customers and compliance with health regulators.
Gold Coast Pool Cleaning include services such as water chemistry management, regular testing and balancing of pH levels and chlorine, we also oversee filtration system maintenance and address equipment concerns to keep the pool in optimal working condition.
Effective communication with pool management and timely response to emergency concerns are essential for a seamless management experience. Seasonal adjustments, budget management and long term forecasting are also part of the broader spectrum of our commercial pool services.
We cater and customise our services to the unique needs of each of our customers requirements and challenges. In essence, our services aim to create a safe, inviting, and well maintained aquatic space for all who use it.
There is no job too BIG OR SMALL for Gold Coast Pool Cleaning services.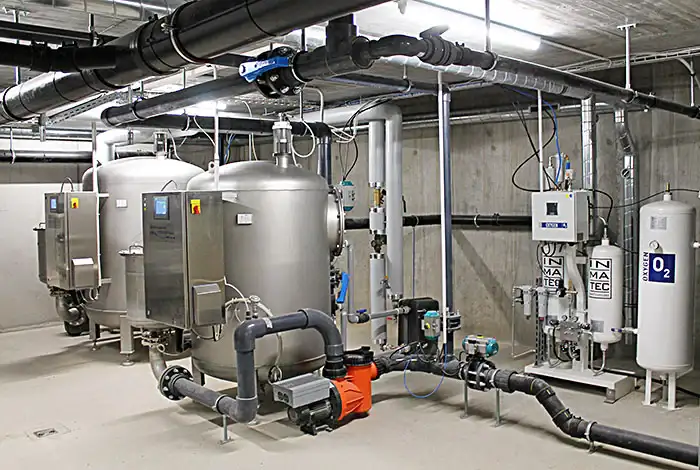 Initial Pool Service Assessment
Commercial Pool & Equipment Audit
A thorough initial pool assessment is the foundation of any successful commercial pool service and maintenance we provide. When it comes to larger resort style pools or smaller Motel facilities, this initial first step ensures the pool is and remains safe, clean, and enjoyable for guests and residents.
During the initial inspection, our trained professionals carefully inspect every aspect of the pools condition. This includes evaluating the pools size, shape, water features and play equipment such as slides etc. We we also check for visible damage and safety hazards.
Water quality and clarity are meticulously examined with tests to determine pH levels, chlorine content and alkalinity. The assessment also includes an analysis of the filtration systems efficiency, condition of pool pumps and equipment as well as the cleanliness of pool surfaces.
Our professional assessment goes beyond just visual inspections. We take into account factors like the pools traffic patterns and seasonal use as well as surrounding environments. Understanding the unique requirements of a resort style pool which typically experiences higher traffic is essential to delivering a customised maintenance plan and budget for you.
Small & Large Commercial Pool Cleaning Services
Commercial pool cleaning is a specialised field that ensures the safety, hygiene and overall running of your Resort, Hotel. Motel or public swimming facility. It involves a comprehensive set of tasks and practices to maintain pristine water quality and to keep in compliance with federal and local Gold Coast guidelines.
Our professional commercial pool cleaning starts by brushing and scrubbing to maintain the pools aesthetic appeal and reduce any build up which also reduces slip hazards. Skimming to remove any debris and vacuuming to clean the pools floor and walls removing dirt and algae.
Cleaning maintenance of the filtration system and equipment is crucial ensuring efficient water circulation and sanitation. Water chemistry management includes testing and adjusting chemical levels like pH and chlorine to prevent waterborne illnesses and maintain a comfortable swimming environment.
Effective communication with management and adherence to safety regulations are integral parts of successful commercial pool cleaning maintenance and we promise to surpass expectations. 
Ultimately our cleaning maintenance services create an environment that meets health and safety standards and provides a pleasant experience for all pool users and you as our client.
Tailored Commercial Pool Cleaning
No job too big or small is our motto and that is why we offer customised and tailored pool cleaning and maintenance solutions for your specific business needs. From small Gyms and Health Spas to Large Resorts and Aquatic Parks we are the specialists in the field and the people you can trust. 
These are the Commercial pool cleaning services we perform as a baseline and then can endure to customise other services and solution to your requirements.
Brushing and Skimming
Brush and scrub tiles & grout to prevent buildup
Skim the pools surface to remove Insects, leaves and debris
Empty & clean skimmer and pump baskets
Vacuum the pools floors and walls to remove dirt and algae
Brush and scrub tiles & grout to prevent buildup
Skim the pools surface to remove Insects, leaves and debris
Empty & clean skimmer and pump baskets
Vacuum the pools floors and walls to remove dirt and algae
Water Chemistry Management:
Test and adjust chemical levels including pH, chlorine and alkalinity
Add chemicals as needed to maintain water quality
Monitor cyanuric acid levels and stabilizer as required
Balance calcium hardness and total dissolved solids (TDS)
Check and clean or backwash pool filters regularly
Replace filter media as needed
Inspect and lubricate orings and gaskets
Ensure the filtration system is operating efficiently
Equipment Inspection Audits:
Inspect and maintain the pool pump and motor
Check for leaks or unusual noises in plumbing
Service and repair pool heaters and other equipment
Lubricate and maintain valves, orings and fittings
Inspection of Safety Features:
Inspect and maintain pool drains and covers for safety compliance
Check and repair safety signs and equipment
Ensure proper function of life-saving devices
Verify that the pool is in compliance with local safety regulations
Chlorination and Sanitization:
Ensure a consistent supply of chlorine for sanitation
Calibrate and maintain chemical feeders and injection systems
Verify proper circulation to evenly distribute chemicals
Ensure Queensland Government Health Regulations are adhered to
Water Testing and Analysis:
Conduct regular water testing for chemical levels
Evaluate total alkalinity, calcium hardness and total dissolved solids
Adjust chemicals based on test results
Record and track water quality data for reference
Tile and Surface Maintenance:
Regularly clean and brush pool tiles
Address algae or scale buildup on surfaces
Repair and replace damaged tiles and grout
Maintain the aesthetic appeal and safety of the pool
Tuning of Water Circulation:
Ensure proper water circulation and turnover rates
Adjust pump operation and timer settings as needed
Address issues with broken or clogged circulation lines
Ensure no pressure hazards are present
Maintain detailed service records for each visit
Track chemical additions, maintenance tasks and repairs
Keep records of events that may impact maintenance needs
Complete all compliance records